Social Documentary 10
We are talking about subjectivity and objectivity.
-Subject
Go in and find out about things.
Straight untouched photography. (Don't stage things.)
(Ex. Find the drug dealer that is not doing well, not the nice clean happy drug dealer.)
What is the truth?
What you see in the photo is the truth, not altered. People don't know how the photographer came to be there.
Great Depression
Stock Market crash 1929
Agriculture disaster "Dust Bowl"
When war production starts, things become better.
Rostein, Farmer and sons dust storm Cimarron County Oklahoma 1936
Mass migration to California for new jobs.
Rosettment Act was set in place to help the farmers get back to their lives (funding).
FSA (Farm Security Administration) was looking to help.
Dam's are being built to help the small rural towns with electricity.
A large amount of art, libraries, zoos are coming.
Realism is starting to come up in the art world.
Roy Strickler, director of the FSA, sent out photographers to illustrate what was happening in the Dust Bowl.
All images are available through the Library of Congress.
Rothstein, Cattle Skull Badlands South Dakota 1936
Rothstein carried this cow skull around with him and placed it in different pictures. (symbolizes dry, dead area)
Shahn, Sacco and Vanzetti, 1931-32
Shahn, Omar West Virginia 1935
Used 35mm (which was the asme size as the Lycca, motion picture films, had not really cought on)
Shahn, Young cotton picker, Pulaski County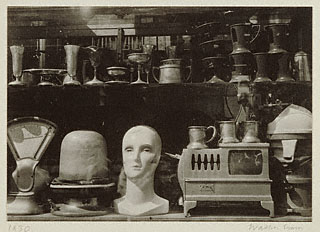 Evans, Secondhand Shop Window 1930
He only shot for FSA for two years.
Used the Rolleflex 120.
Took a lot of photography of open windows such as "Ashby".
Erosion photography was sent out to raise support for the "New Deal".
Evans, Bud Fields and his family at home c1936
"Let us now praise famous Me" book that Evans photographed for.
Most of the south share croppers were black.
Evans, Washboard in the dog run of Floyd Burroughs cabin Hale County Alabama 1936
Evans, Negro barber shop Atlanta Georgia 1936
Evans was an old cranky man
Photographers are already using signs in photographs to make Pop-Art.
Evans, Subway Portrait c1940
He was a Northerner with the idea of an imaginary south.
Teenagers are just starting to have their own category. (clothes, sneakers)
Dorothea Large, Resettlement Administration photographer in CA atop car with her giant camera 1936
Large, Fillipinos cutting lettuce Salinas CA 1935
Large, Child living in Oklahoma City shacktown 1936
Large, Migrant Mother 1936
"I saw and approached the hungry and desperate mother, as if drawn by a magnet. I do not remember how I explained my presence or my camera to her, but I do remember she asked me no questions. I made five exposures, working closer and closer from the same direction. I did not ask her name or her history. She told me her age, that she was thirty-two. She said that they had been living on frozen vegetables from the surrounding fields, and birds that the children killed. She had just sold the tires from her car to buy food. There she sat in that lean- to tent with her children huddled around her, and seemed to know that my pictures might help her, and so she helped me. There was a sort of equality about it. (From: Popular Photography, Feb. 1960)."
The picture became the famous because of her facial expression. You can see the feeling, emotion in the photograph.
These are all photographers of FSA!
Large, Mississippi Delta Negro Children 1936
Large, Toward Los Angeles CA 1937
Large, Pledge of Allegiance 1942
Fiore, Portrait of Gordon Parks 1997
Parks, Anacostia DC Frederick Douglas housing project children 1942
Parks started small then got bigger.
Parks, Washington DC Government chair woman 1942
Parks, Red Jackson Harlem Gang Leader 1948
Parks, October 1952
Parks, Paris Fashion 1950
Parks,Flavio da Silva Rio de Janeiro 1961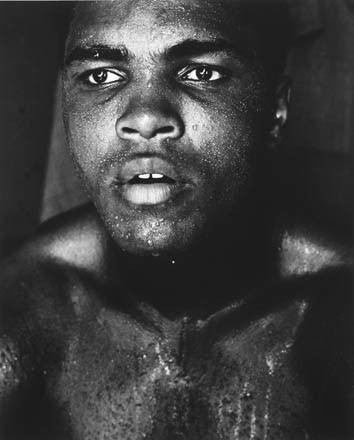 Parks, Muhammad Ali 1970
Last photographer for the FSA
Bourke-White, White Angel Breadline 1933
Bourke-White was the first cover photographer for Life Magazine.
Bourke-White, African American Flood victims lined up 1933
Bourke-White, Mohandas K. Gandhi 1946
Bourke-White, Gold Miners 1950
Bourke-White, Nuremberg 1945
Bourke-White, Jewish Prisoners at the fense at Buchenwald 1945
Bourke-White recorded the Spanish Civil War.
Capa also worked with Life Magazine.
Capa, Republican militant Federico Borrell Garcia at the moment of death 1939
Capa, Normandy Omaha Beach The first wave of American troops lands at dawn 1944
Scenes from Saving Private Ryan are based on these images by Capa.
Capa, Pablo Picasso et Francoise Gilot 1948
Man Ray started Magnum Photography.
Miller, Marlene Dietrich Paris September 1944
Miller, Dead German Guard in Canal 1945
Unknown, Lee Miller in Hitler's Bathtub Munich 1946
Smith, The walk to Paradise Garden 1946
Smith, Untitled Dr. Ceriani after the lose of a patient 1948
Smith, The Wake 1950
Smith, Tomoko in her bath Minamata Japan 1972
Truth is questionable.
Power of Testifying
Context is meaning (How I tell you about it influences what it means).
Opening of photojournalism.
Trop (visual symbol).
Cultural and Ethological balance.
Notes by David Foltz
+++++++++++++++++++++++++++++++++++++++++++++++++++++++++++++++++++++++++++++++++++++
SOCIAL DOCUMENTARY
<Rothstein>
Dust Storm, Cimarron. Country, Oklahoma 1936
• Oklahoma: Many people left there searching for job
• Great depression after World War II
• Working for "New Deal": RA and FSA
• They needed PR men to illustrate what is happening.
• He took 1/4 million images. Those are in Library of Congress.
Cattle Skull, Bad Lands, South Dakota 1936
• Skull shows how dry it is, as a symbol.
• It was arranged.
<Shahn>
Sacco and Vanzetti, 1931~32
• He was a painter before becoming a photographer.
Omar West Virginia 1935
• Used 35mm camera
• Does not have a light meter
• Farming
Young cotton picker, Pulaski Country, Arkansas. 1935
Striking Miners Scotts Run, West Virginia 1935
• Never able to leave the town.
Scotts Run West Virginia 1937
Young Boys Salvaging Coal From the Slag Heaps Nanty Glo, Pennsyvania 1937
Itinerant Photographer in Columbus, Ohio 1938
• Photographer travels
• Cheaper photos
Farmers 1943
• Great depression
<Evans>
Secondhand Shop Window 1930
• Sidewalk Scene in Selma, Alabama, 1935
• Loved signage
Fruit Sign Beaufort South Carolina 1936
Erosion Near Jackson Mississippi 1936
• Soil erosion
Bud Fields and His Family At Home c1936
• Looked where represents what is happening everywhere.
Washstand in the Dog Run of Floyd Barrough's Cabin, Hale County, Alabama 1936
• He is famous for an empty room photographer.
Part of the Bedroom of Floyd Barroughs' Cabin, Hale County, Alabama, 1936
• Corner of Kitchen in Floyd Barroughs' Cabin, Hale County, Alabama, 1936
Negro Barber Shop, Atlanta, Georgia, 1936
• His most famous photo
• Having nobody: People can look at details of the room.
Show Poster in Alabama Town, 1939
Subway Portrait, c1940
• Secret (hidden) portrait
Five Men Playing Basketball for the series Dress, 1963
• Last B&W photo he did
• Shows dressing differently.
<Lange>
SFA photographer
Fillipinos Cutting Lettuce Salinas California, 1935
Child Living in Oklahoma City Shacktown, 1936
• Informal housing
• Shelter
Migrant Mother 1936
• The famous one
• She becomes an icon for great depression of America
• Looks desperate
Nipomo, California. Mar. 1936
• Using them in newspaper
• 7 childeren
• 32 years old: She looks older
Mississippi Delta Negro Children, 1936
Toward Los Angeles California, 1937
• Irony
• Sign: no idea
Pledge of Allegiance, 1942
<Fiore>
SFA photographer
Portrait of Gordon Parks
Anacostia DC Frederik Douglass Housing Project Children, 1942
<Parks>
What he did: Wrote books, jazz music, ballet music, director of movie; could do anything
Washington DC Government Chairwoman, 1942
• The famous one
Mrs. Ella Watson with three grandchildren and her adopted daughter, 1942
Washington Southeast Section DC Wooden Privies in the Negro Area 1944
• He didn't like DC so went to Harlem
New York Harlem Newsboy 1943
Red Jackson Harlem Gang Leader 1948
October 1952
• Great profile
Paris Fashion 1950
Flavio da Silva Rio de Janeiro 1961
James Galanos Fashing c1967
• For life mazine; people don't get it.
Muhammad Ali 1970
• Black people
<Bourke-White>
White Angel Breadline 1933
• Great depression
• Life magazine was at everybody's house.
• Aimed for everyone in the country.
• Life magazine controlled photographers.
• The first photographer of life magazine
African American Flood Victims Lined Up 1937
• Ironic juxtaposition: type and people in the poster
Mohandas K Gandhi 1946
• Could go anywhere she wanted to go.
• India is famous for cloth: Cloth represents wealth.
• Spinning wheel symbolizes Indian independence.
• Gandhi said, "If you learn to spin, I will let you take my portrait."
Gold Miners 1950
• South Africa
• Went to mine underground
Nuremberg 1945
• Germany
Jewish Prisoners at the Fence at Buchenwald 1945
• Shows how they feel
<Capa>
Madrid 1936
• Records Spanish civil war
• Works for life magazine
Republican Militiaman Federico Borrell Garcia at the moment of death 1936
Normandy Omaha Beach The First ware of American Troops Lands at dawn 1944
• Shoot and shopped to the editor; the editor developed.
Pablo Picasso et Francoise Gilot 1948
• "Magnom": photograph agency; Bresson made photographer more important.
• "If the photograph is not good enough, you are not close enough."
<Man Ray>
Lee Millers Torso
<Miller>
Marlene Dietrich Paris September 1944
• Loves Paris and fashion
Eileen Agars Shadow Brighton 1939
Dead German Guard in Canal 1945
Unknown, Lee Miller in Hitlers Bathtub Munich 1945
<E.Smith>
Photo Books (Photo essay)
Good at printing
Long-term projects
The Walk to Paradise Garden 1946
Untitled (Dr. Ceriani with Injured Child) 1948
The Wake 1950
Tomoko in Her Bath Minamata Japan 1972
Untitled From Pittsburgh 1955
• Flames over-exposured
• Difficult to take
Notes By Yooli Lee
page revision: 22, last edited: 19 Mar 2009 02:49