Straight Photography And New Objectivity 9
Straight Photography- Pure photography refers to photography that attempts to depict a scene as realistically and objectively as permitted by the medium, renouncing the use of manipulation.
Founded in 1932, Group f/64 who championed purist photography, had this to say:
Pure photography is defined as possessing no qualities of technique, composition or idea, derivative of any other art form.
-ManRay- born Emmanuel Radnitzky (August 27, 1890 – November 18, 1976)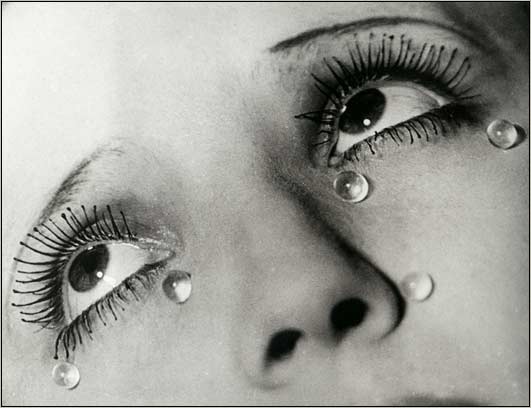 Man Ray (American, 1890-1976)
Larmes (Tears) 1930-32.
Gelatin silver print.
Man Ray, Le Violon d'Ingres, 1924
Silver nitrate print with markings in pencil and Indian ink
-American artist who spent most of his career in Paris, France. Described as a modernist, significant contributor to both the Dada and Surrealist movements.
-Man Ray produced major works in a variety of media and considered himself a painter above all. He was also a renowned fashion and portrait photographer.
Bravo - 1940's Mexican Artist xray photo
-Moholy-Nagy (husband/wife)- professor in the Bauhaus school.
(July 20, 1895 – November 24, 1946) -was a hungarian painter and photographer.
-Ansel Adams: (February 20, 1902 – April 22, 1984)
-Adams was an American photographer and environmentalist, best known for his black-and-white photographs of the American West and primarily Yosemite National Park.
Moonrise over Hernandez, New Mexico, 1941
-F/64 Magazine, developed system for tonal range in photos. (Moon & Dome)
*ZONE SYSTEM* -a way to determine proper exposure and adjust the contrast of the final print.
-Harry Callahan- (1912-1999) an American photographer born in Detroit.
-he saw work by Ansel Adams and was then inspired to search for his own photographic style.
-Callahan also explored many different techniques including: the use of extreme contrast, collage, multiple and time exposures, and camera motion.
-Minor White- 1950's: Used infrared film and co-founded Aperture Magazine.
Road and Poplar Trees, in the Vicinity of Naples and Dansville, New York
1955
-Post WWII Movement
-Modell- took photographs of Americans, lively and furry and ugly Americans.
-Weegee Crime photographer 1930. Weegee (Arthur Fellig). (American, born Austria. 1899-1968)
Also photographed rich women- "The Critic"
"First Murder"
Weegee's famous photograph "Their First Murder" shows a crowd with mixed emotions gathered after a murder in Williamsburg in New York City.
"The Critic 1943"
Henri Cartier-Bresson
(August 22, 1908 – August 3, 2004)
-in the moment; "decisive moment"
-was a French photographer considered to be the father of modern photojournalism.
Behind the Gare Saint Lazare, 1932- Man about to fall in water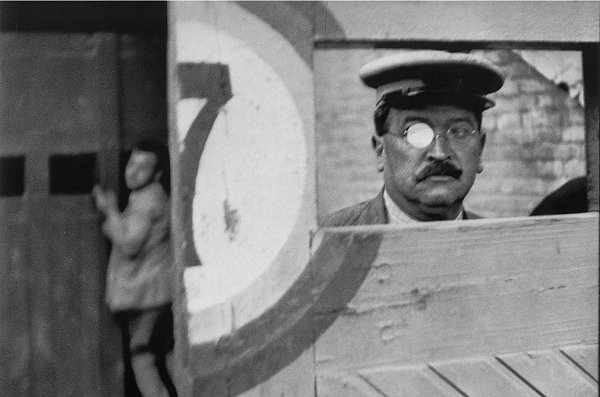 Roman Amphitheater Valencia, 1933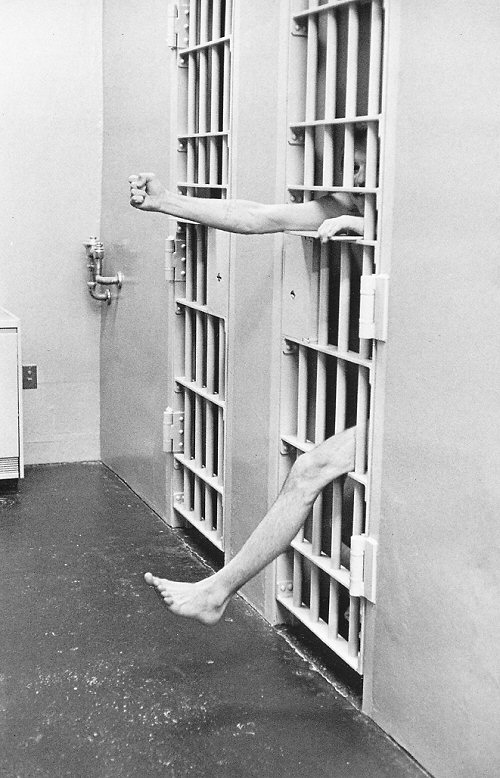 Henri Cartier-Bresson
USA. New Jersey. Model prison of Leesburg. Solitary confinement. 1975.
'Henri Matisse' 'Model Prison'
Henri Matisse (31 December 1869 – 3 November 1954) was a French artist, known for his use of colour and his fluid, brilliant and original draftsmanship.
Weblinks:
http://www.britannica.com/EBchecked/topic/492395/Man-Ray
http://www.anseladams.com/content/ansel_info/anseladams_biography2.html
http://www.zpub.com/sf/history/adams.html
http://www.afterimagegallery.com/bresson.htm
http://en.wikipedia.org/wiki/Minor_White
Notes by: Sanam Khaliqi
page revision: 2, last edited: 24 Mar 2009 04:00